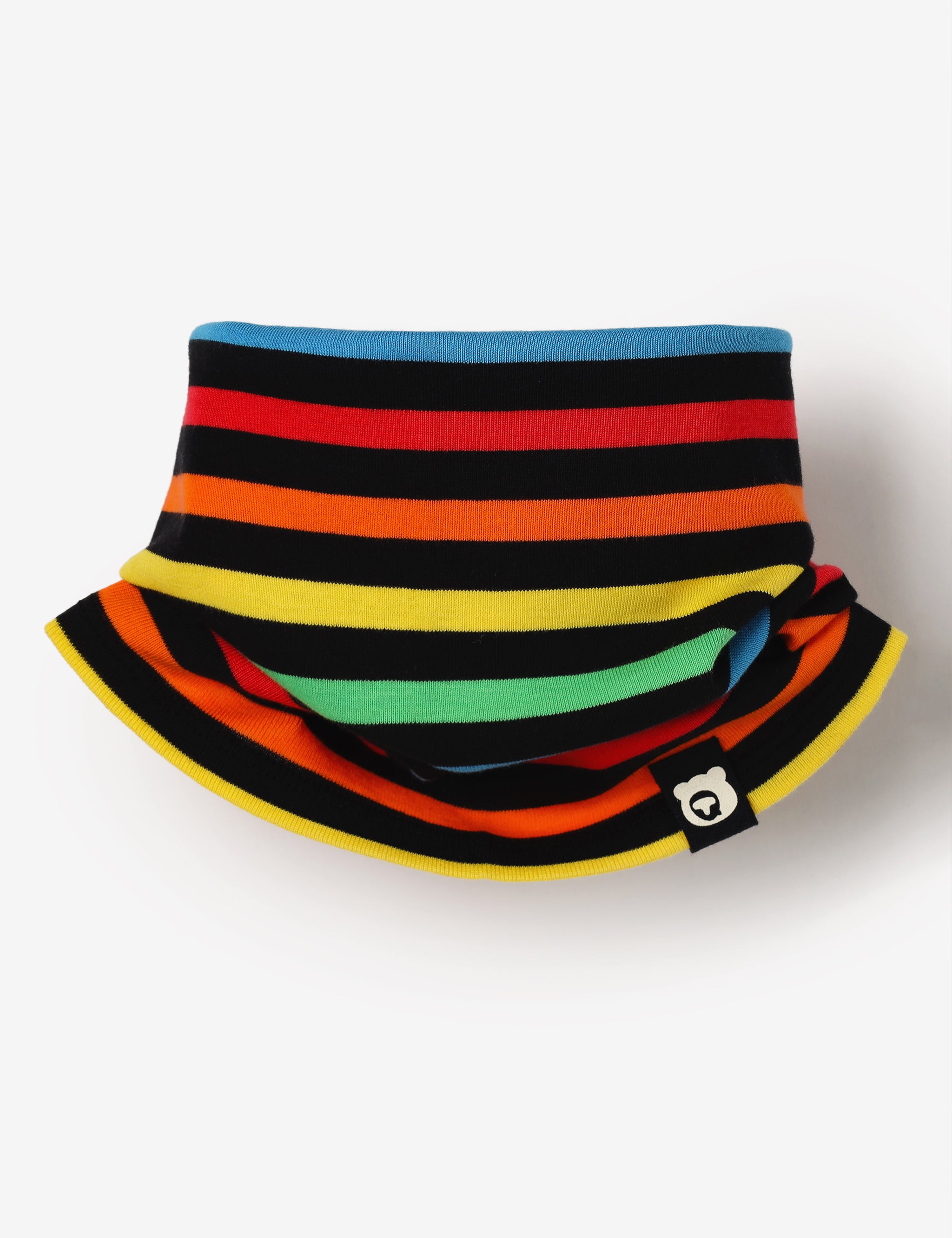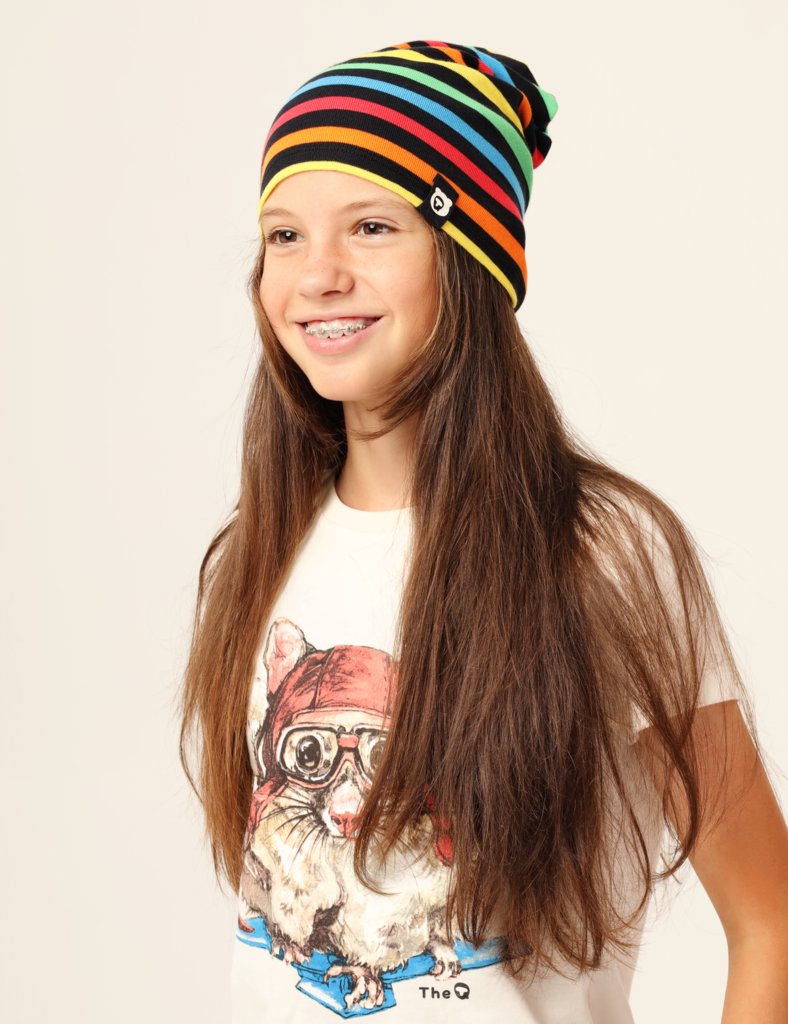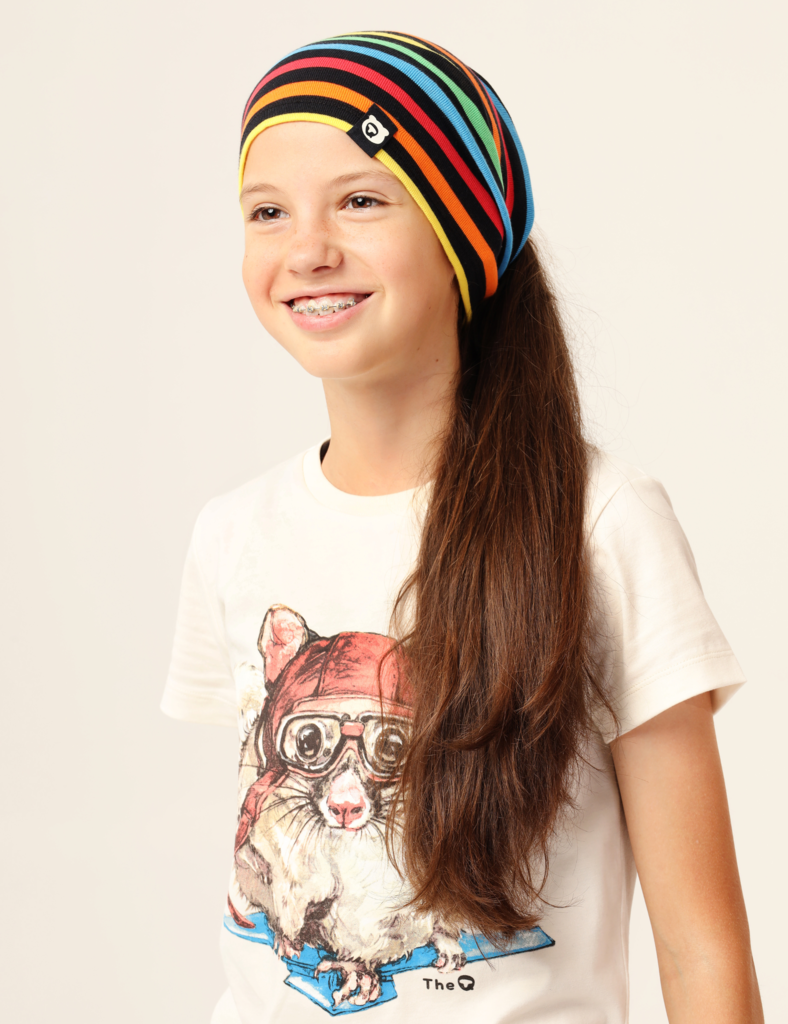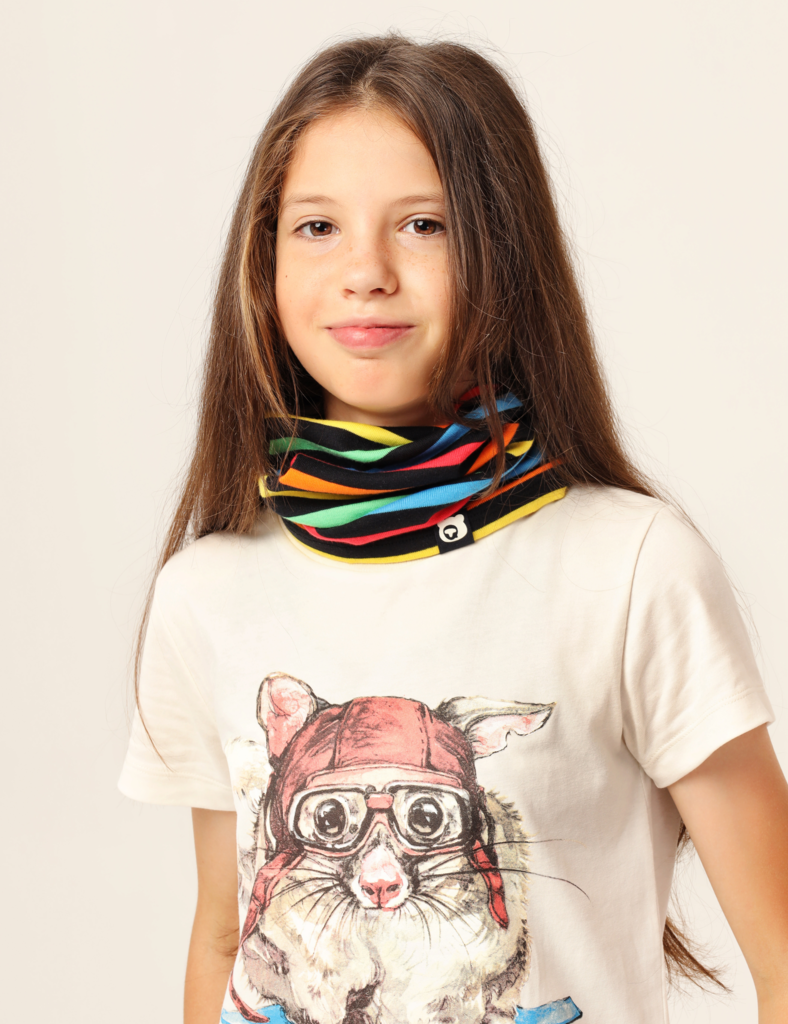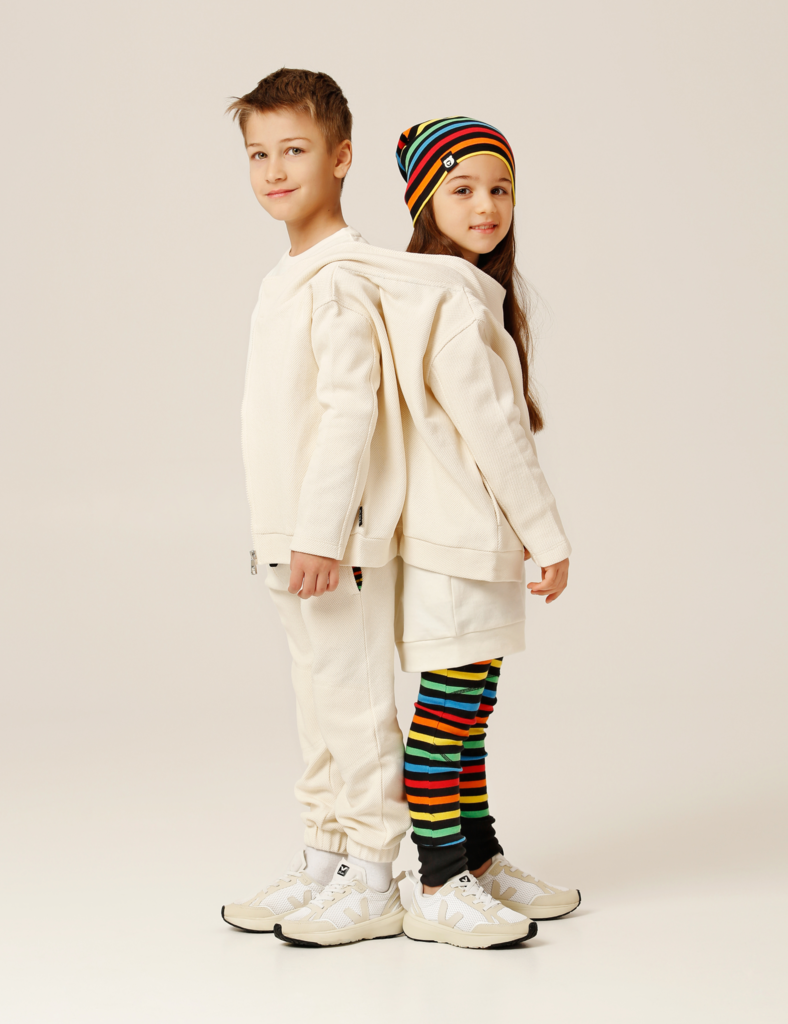 Organic Cosy Rib Snood - Black Multistripe
Stay warm and stylish with our versatile and eco-friendly multifunctional accessory. Made from soft GOTS certified 100% organic cotton rib in bright stripes, it's perfect for adding a pop of colour to any outfit. Wear it as a scarf, a bandana, or a beanie hat - simply tie it into a knot at one end and you're good to go. Designed to fit anyone, this accessory is perfect for those chilly days and will never go out of style. Join the sustainable fashion movement and invest in a piece that you can wear for years to come.
MADE TO BE LOVED

100% Organic Cotton:

 

this garment is made with 100% organic cotton, which is a rare and valuable commodity in the fashion industry. Less than 1% of cotton grown worldwide is organic, making our clothes an ethical and sustainable choice for your children's wardrobe.
GOTS Certified:

 

this garment is certified by the Global Organic Textile Standard (GOTS), ensuring that no hazardous chemicals are used in the production process, and that our supply chain is ethical from seed to you. This certification is recognised worldwide and provides peace of mind for parents who want the best for their kids.
Circular Design:

 

this garment is designed for circularity and is fully recyclable, biodegradable and compostable. This reduces waste and promotes sustainable practices, ensuring that our planet is protected for future generations.
Unisex Style:

 

this garment is designed to be gender-neutral and stereotype-free, promoting inclusivity and acceptance. We believe that children should be free to express themselves without limitations.
Sensory-Friendly:

 

this garment is made with sensory-friendly materials that won't cause any irritation, ensuring that your child is comfortable all day long. We prioritise comfort and functionality in our designs.
Hypoallergenic:

 

this garment is hypoallergenic and won't cause any allergies, making it a safe and healthy choice for your child's delicate skin. We understand the importance of gentle fabrics for children with sensitive skin.
Plastic-Free:

 

this garment is made without any hidden plastic, ensuring that it won't contribute to the problem of microplastic pollution when washed. We believe in creating products that are not only sustainable but also environmentally conscious.
Vegan Style:

 

this garment is made with materials that are free from animal products.
Designed in the UK
Crafted ethically in Turkey
100% Organic Cotton Rib

Wash & Care
Machine wash cold on 30°C cycle
Wash inside out, iron on reverse
Air dry, Do not tumble dry
Do not dry clean
Do not bleach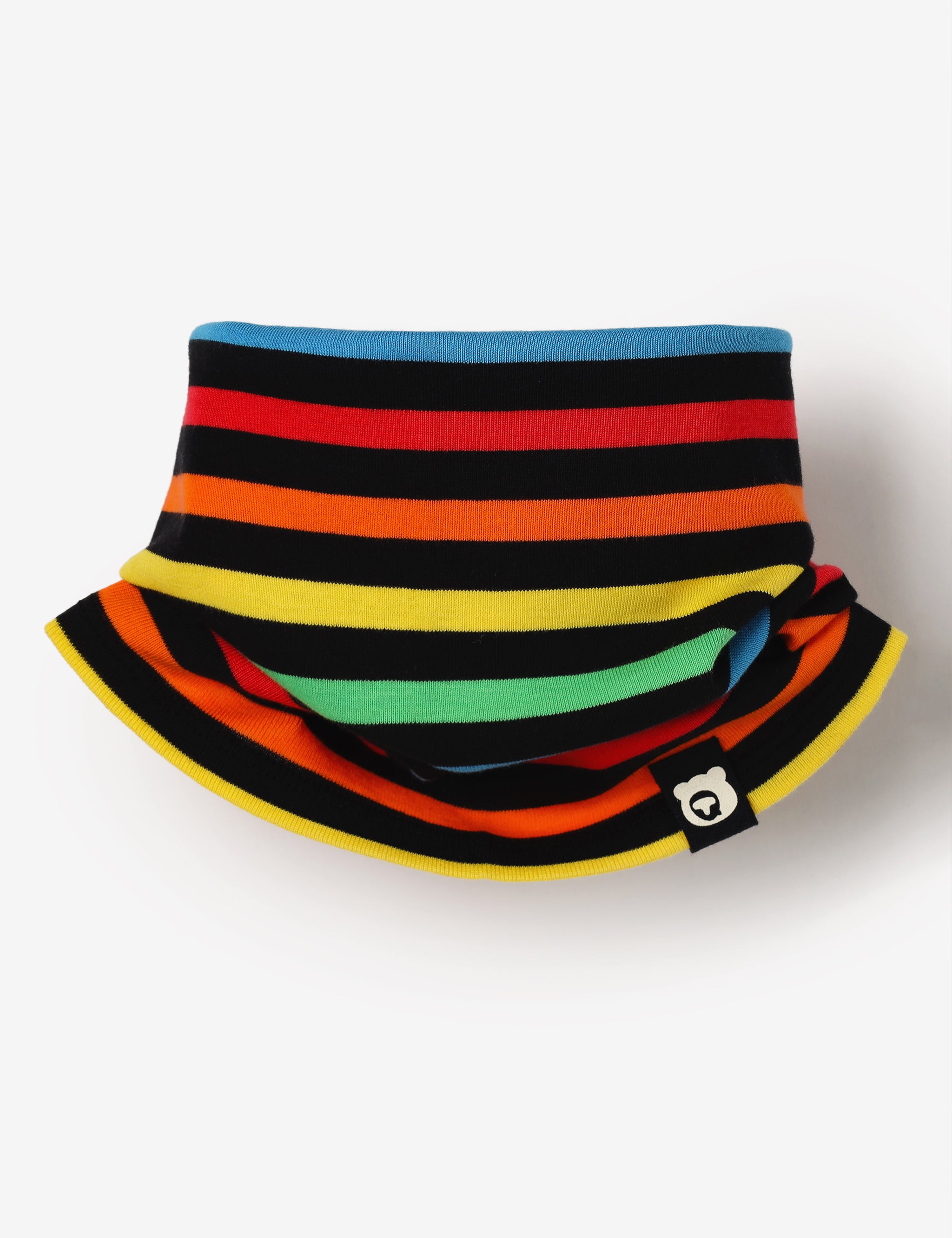 Organic Cosy Rib Snood - Black Multistripe
Sale price

€20,00
Regular price
Choose options